Main Content Starts Here, tab to start navigating

Morans | Irish Pub in Hoboken, NJ
Our Food
We pride ourselves on offering the finest Irish and American gastropub cuisine, made fresh to order and using only top-quality ingredients.
View Menus
Where Everybody Knows Your Name
Located in the heart of Hoboken, NJ, Moran's is one of the oldest authentic Irish pubs in the mile-square city. Here, the craic is legendary, the Guinness is perfectly poured, and the food is top-notch. Moran's has also been featured in Alex Gibney's HBO documentary "Sinatra: All or Nothing At All" and the short film "Ball and Vase," starring Austin Pendleton.
Drop in and say hello!
Moran's has been home to the finest pint of Guinness this side of the Atlantic for over 25 years -- and as of January 2016, we also proudly serve some of the best pub fare that Hoboken has to offer.
Before opening Moran's, owner Len Hehir cut his teeth in the fine dining scene in NYC -- first as a bartender at the power-lunch epicenter of the city, the prestigious Four Seasons Restaurant, and then as Captain of servers at the famous steakhouse Gallagher's.
Len hails from Limerick, Ireland and studied English, History, and Philosophy at one of the country's top universities, The National University of Ireland, Galway. He was on track to become a teacher before he fell in love with a Jersey girl and moved to the States — but many of his customers would probably argue that they've learned more about current events, politics, history, music, and literature from Lenny than they ever did in school. And, ever the consummate barman, he listens just as well as he talks.
In August of 1989, after co-owning a previous restaurant in Hoboken, Len opened the doors to Moran's Pub on the corner of Fifth and Garden Street, overlooking Church Square Park.
At the end of 2015, Moran's teamed up with young, innovative chef Vinicio Lantigua to transform the beloved bar into the first true gastropub in Hoboken. Hailing from the Dominican Republic, Vinicio studied at the French Culinary Institute and was most recently the executive chef at Stout FiDi in NYC. His impressive resume includes an executive sous chef position at Uncle Jack's Steakhouse, and sous chef positions at The Oak Room at the Plaza Hotel and 3-Michelin star restaurant Jean Georges; before that, he was executive chef at upscale East Village Greek restaurant Pylos.
Vin's food philosophy is simple: he takes classic dishes and imbues them with his point of view, using only high quality, fresh ingredients and innovative, health-conscious techniques.
For anyone who's nervous about this Hoboken gem changing too much: the old Moran's isn't gone, and neither is the barman who started it all. He just thinks you ought to have a bitta grub with your pint.
written with love by Lenny's daughter, M aura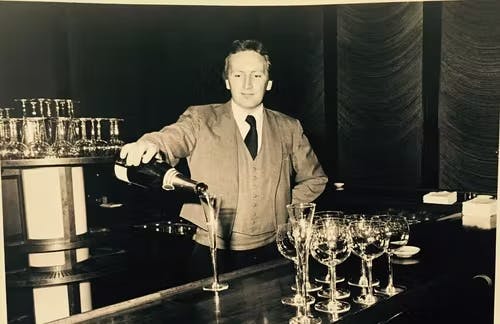 Lenny behind the bar at the Four Seasons Restaurant in New York
Contact
For takeaway and reservations, call us at: